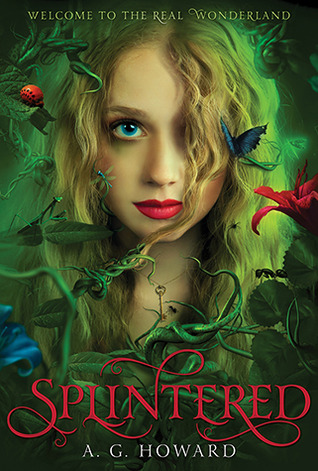 Series:
Splintered
#1
Original Publication Date:
January 1st 2013
Publisher:
Amulet Books
Genre(s):
Fantasy, Romance, Retellings
Format:
Hardcover
Source:
Gifted
Pages:
371
Goodreads
|
Book Depository
Alyssa Gardner hears the whispers of bugs and flowers-precisely the affliction that landed her mother in a mental hospital years before. This family curse stretches back to her ancestor Alice Liddell, the real-life inspiration for Lewis Carroll's Alice's Adventures in Wonderland. Alyssa might be crazy, but she manages to keep it together. For now.
When her mother's mental health takes a turn for the worse, Alyssa learns that what she thought was fiction is based in terrifying reality. The real Wonderland is a place far darker and more twisted than Lewis Carroll ever let on. There, Alyssa must pass a series of tests, including draining an ocean of Aice's tears waking the slumbering tea party, and subduing a vicious bandersnatch, to fix Alice's mistakes and save her family. She must also decide whom to trust: Jeb, her gorgeous best friend and secret crush, or the sexy but suspicious Morpheus, her guide through Wonderland, who may have dark motives of his own.
Splintered
by A. G. Howard is a fantastical retelling filled with creepy and kooky beings and told in such a beautiful way that all future
Alice's Adventures in Wonderland
retellings now have something to aspire to.
Alyssa was a wonderful leading character, and I really enjoyed her. She felt realistic and I felt as though all of her decisions and choices were well-made.
Jeb was absolutely to-die-for - I don't know what it is about Morpheus, (I'm assuming I will find out in Unhinged? If not, all of you people are crazy), but how can you pick Morpheus over Jeb? I'm very confused about this whole debacle.
While I don't understand the attraction to Morpheus, he was still a very intriguing character. Like Alyssa and Jeb, he was very well thought-out and they all have very distinctive voices and personalities.
To say that I adore Wonderland, both in Lewis Carroll's original tale and in A. G. Howard's retelling is an understatement. I LOVE Wonderland. It was spooky and beautiful and just asdfghjkl - so perfect and I loved every moment spent there.
The story of the Liddell family curse was very original and imaginative without seeming too far-fetched to be believable. The entire retelling concepts present in this novel were something I found immensely interesting and enjoyable.
The relationship development in this novel is something that is minimal, but enjoyable (I really need another word for "enjoyable") and satisfactory nonetheless. And, in case you didn't notice, I'm on Team Jeb until I can be further convinced otherwise.
I really loved the pacing in this book. It wasn't too fast, everything happened in sufficient timing. And by that, I mean everything was explained and happened in a way that it wasn't confusing, but the plot and the storyline didn't feel as though it dragged on.
Howard's writing was very fun and overall, I thought it was simply beautiful. Not beautiful in the way that Ellen Hopkins' writing is, but beautiful nonetheless.
Overall, I found Splintered to be immensely enjoyable (grr, there's that word again!!!) and I can't wait to see where the story goes in Unhinged. Now...if only my book buying ban was able to come to an end today...
Until next time,