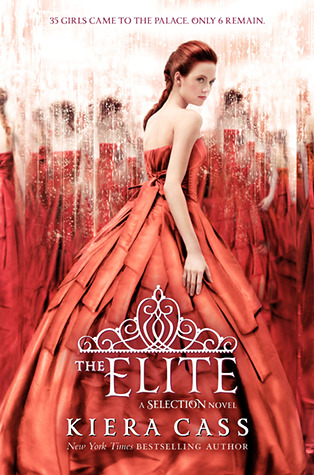 Series:
The Selection
#2
Original Publication Date:
April 1st 2013
Publisher:
HarperTeen
Genre(s):
Dystopia, Romance, Fantasy
Format:
Paperback
Source:
Library
Pages:
323
Goodreads
|
Book Depository
The Selection began with thirty-five girls. Now, with the group narrowed down to the Elite, the competition to win Prince Maxon's heart is fiercer than ever--and America is still struggling to decide where her own heart truly lies. Is it with Maxon, who could make her life a fairy tale? Or with her first love, Aspen, who she always thought was the one?
America is desperate for more time. But the rest of the Elite know exactly what they want--and America's chance to choose is about to slip away.
While I didn't enjoy this book as much as I did
The Selection
, it by no means disappointed me. It was exactly what I was expecting when I was going into the trilogy.
America, in this novel, was annoying. I certainly understand what everyone else means now. I didn't find America annoying in
The Selection
. I felt as though she was saying "I've chosen Maxon" in one chapter, and then "I've chosen Aspen" in the next with nothing much happening in between. I realise that this is a slight exaggeration, but that's how I felt. Apart from that, I felt as though America was still a little immature at times in this novel, but I definitely think she's maturing.
Maxon, Aspen, Marley and et cetera were all nice enough characters in this novel, but they didn't really develop at all - they felt a little one dimensional.
The novel was fast-paced, and this series is definitely a good series to read if you are in the mood for a light, quick read.
The romance between both Maxon and America and America and Aspen didn't feel realistic to me in this novel, but I still prefer Maxon over Aspen.
Cass' writing is fun, and light-hearted - this series is definitely an entertaining read if you're expectations aren't exceptionally high.
Overall,
The Elite
was a fun read and I look forward to reading
The One
later this year.
Who do you ship; Maxon and America or America and Aspen?
Until next time,