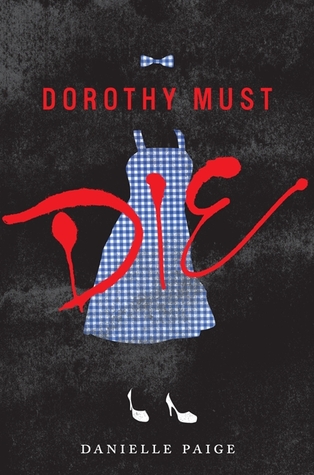 Series:
Dorothy Must Die
#1
Original Publication Date:
April 1st 2014
Publisher:
HarperCollins
Genre(s):
Fantasy, Retellings, Magic
Format:
Hardcover
Source:
Gifted
Pages:
464
Goodreads
|
Book Depository
I didn't ask for any of this. I didn't ask to be some kind of hero.
But when your whole life gets swept up by a tornado-taking you with it-you have no choice but to go along, you know?
Sure, I've read the books. I've seen the movies. I know the song about the rainbow and the happy little blue birds. But I never expected Oz to look like this. To be a place where Good Witches can't be trusted, Wicked Witches may just be the good guys, and winged monkeys can be executed for acts of rebellion. There's still the yellow brick road, though-but even that's crumbling.
What happened? Dorothy.
They say she found a way to come back to Oz. They say she seized power and the power went to her head. And now no one is safe.
My name is Amy Gumm-and I'm the other girl from Kansas.
I've been recruited by the Revolutionary Order of the Wicked.
I've been trained to fight.
And I have a mission.
The entire concept of
Dorothy Must Die
is so very awesome! I've never read or even heard of a
Wizard of Oz
retelling before, so I was very excited to get this book for my birthday - and look at that cover, isn't it beautiful? It's even lovely underneath the dust jacket!
Nox, Glamora, Gert and Mombi were interesting characters, but they all felt rather one-dimensional to me and they didn't have a lot of range to their personalities.
The plot was very interesting, and although I think it could've been a little bit more condensed, it was overall
very
enjoyable. I loved learning about what had happened to Oz, even though it made me sad. I do think that the novel could've been shorter, or the pacing could've been a bit quicker, as by the end of it, I was skim-reading the pages just because it felt as though I had been reading for a lifetime.
I really enjoyed Paige's writing, and I think her execution of the concept was very well done. I don't think this novel could've been written by just anyone. For a debut novel, I think Paige has done and exceptional job, and I don't think it could've been written much better. I feel as though Danielle deserves an award, or at least some applause.
Overall, Dorothy Must Die was a wonderful start to a series - I can't wait to read book two.
What is your favourite retelling?
Until next time,